How to bake pasta? How to prepare yoghurt pasta sauce? Pasta with béchamel sauce, yoghurt sauce, milk sauce, tomato sauce and tomato paste are in demand among the baked sauce pasta recipes . An illustrated, beautiful and easy recipe for practical baked pasta without flour without milk in its simplest and plainest form …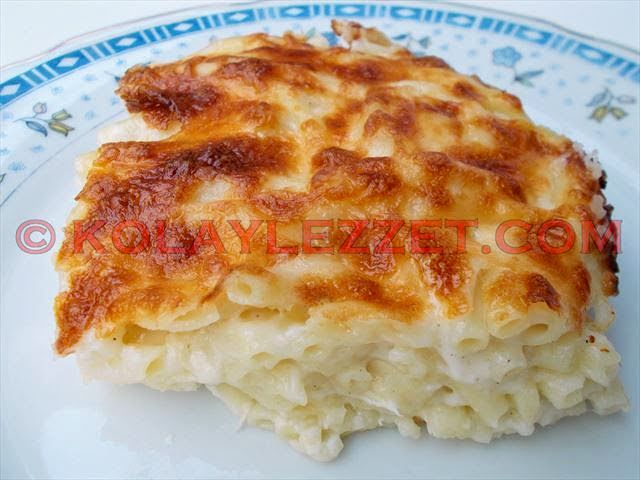 Baked Pasta With Yogurt Sauce🍝 Recipe Ingredients
Half pack baked pasta (250 gr)
A glass of grated cheddar
A heaping dish tablespoons butter
Deleting a dessert spoon of salt
Yogurt Sauce Ingredients
One and a half cups of yogurt
Two eggs
Three tablespoons of oil
If desired, to add into the sauce: Red chili and black pepper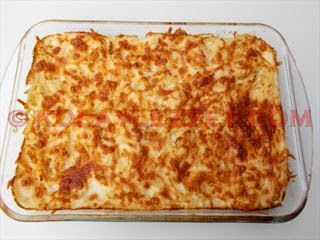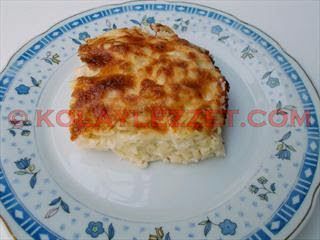 Baked Pasta with Yogurt Sauce (Baked Pasta Gratin) Preparation Recipe
Water is placed in a pot. After boiling, salt is thrown. The pastas are carefully dropped into the water without breaking. It is boiled and drained, stirring occasionally, until it becomes soft without being over-crushed. We do not apply cold watering treatment as it will cause the loss of the beneficial essence of the pasta. Since it will continue to be cooked in the oven, it should be boiled less than the normal amount of boiling. Pasta is taken with a colander and placed in a glass or porcelain oven dish. If desired, a portion of the grated cheese can be mixed with the pasta and made into a part of the filling. By pressing lightly on it by hand or with the back of a spoon, it is well placed and flattened.
Small pieces of chopped butter are sprinkled on it.
How to Prepare Pasta Sauce with Yogurt in the Oven: In a deep and wide bowl, one and a half cups of yogurt, two eggs and three tablespoons of oil are mixed and the pasta sauce with yogurt is poured over the pasta.
Place the grated cheese on the top.
At what temperature is pasta cooked in the oven? How many minutes does pasta bake in the oven? Pasta with Yogurt Sauce in the Oven is cooked in the middle of the preheated oven at 200 degrees until it is browned. It is served hot, cut square or rectangular. It can be served with dill or basil decorations on the side. The duration of cooking pasta in the oven may differ depending on the characteristics of the oven used. Although it is estimated that it will be cooked in a period of twenty to thirty five minutes, the signal of browning should be taken into account in case of being raw or overcooking and drying.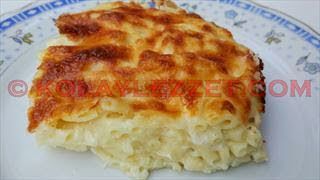 Other Issues, Tips and Additional Information Related to the Preparation of Baked Pasta with Yoghurt Sauce
Baked pasta recipes and yoghurt pasta sauce explanations are very diverse. Which one is the most beautiful depends on the person. For example, for the recipe of baked pasta without cheddar cheese, the above recipe should be made without using cheddar cheese. It is also possible to grate chilled feta cheese, provided you pay attention to the salt instead of cheddar. Some also include white or curd cheese, cottage cheese, cheese + parsley mixture, sausage, sausage, potatoes, meatballs , sautéed minced meat mortar or boiled chicken , cauliflower, leek, spinach to make the baked pasta closer to the pasta pastry. vegetables such as zucchinis, garnish, add mushrooms. The filo pastry style is also beautiful. If the filling is watery, the grated cheddar to be sprinkled on top is taken out of the oven after the cooking time in the oven enough to absorb this water and added to the oven again.
Preparation of a Different Yoghurt Pasta Sauce Recipe: Pasta sauces with yoghurt can also be very different. While preparing yoghurt sauce for pasta, different tastes can be added to it if desired. Necessary ingredients for a different mint yoghurt sauce: One and a half cups of yogurt, two cloves of garlic, a teaspoon of vegetable oil, finely chopped dill, a teaspoon of dried mint, black pepper, salt. Preparation of yoghurt pasta sauce: Yoghurt is placed in a large and deep bowl. Add crushed garlic, dried mint, finely chopped dill, oil, black pepper and salt. All of the ingredients are thoroughly mixed to obtain a good consistency. If the consistency level of yogurt is high, a small amount of water is added in a fluid consistency. When the yoghurt pasta sauce is ready, it can be spread over the pasta and served.
Pasta with Tomato Sauce and Yoghurt Recipe Preparation: While making pasta with yoghurt sauce, more advanced taste searches require the use of additional pasta sauce. If it is said whether the pasta sauce is with yogurt or another sauce on it, then "pasta with tomato sauce with yogurt" or "pasta with yogurt sauce sauce" comes to mind. While preparing pasta with tomato with yogurt, a tablespoon of oil and two garlic cloves grated in a teaspoon of butter are cooked for a minute or two, two tomatoes, two dessert spoons of tomato paste, half a teaspoon of salt are added and mixed and cooked on low heat for ten minutes. While the pasta with yoghurt sauce is being prepared to serve, the pasta with yoghurt sauce and then tomato sauce are poured into the pasta placed on the plates.
Which pasta is made from baked pasta? With which pasta is baked pasta made? Can the baked pasta be with normal pasta ?: If we use the "baked pasta" number 2 or 3 in the form of thick stick pasta and suggest, long spaghetti pasta, long flat pasta, pencil pasta, butterfly pasta, whistle pasta, pipe pasta, bow tie pasta, noodle pasta It can also be made with colorful pasta or a mixture of different types of pasta left over from other dishes. In this case, the possibility of cooking earlier should be taken into account.
If the recipe is followed and the oven is waited for ten to fifteen minutes after cooking, the pasta is prepared in an oven that can be sliced ​​without dispersing with the contribution of the eggs and cheddar in the sauce.
Cyprus Baked Pasta Recipe Preparation: While the pasta is spread in two layers, there is a layer with parsley and plenty of minced meat in the middle layer. Thesauce made with a mixture of flour, milk and grated halloumi cheese is poured on the top.
When creating a pasta menu in the oven, the question " What goes with pasta in the oven? What to cook with pasta in the oven? " Comes to mind. First of all , you can start with a soup service before the main meal . You can choose any suitable soup that can be selected from "HOME MADE TOMATO SOUP" , "LENTILIZED LENTIL SOUP" , "EZOGELIN SOUP" or " SOUP RECIPES" . DESCRIPTION meat meal , 🍗TAVUK Dinner Recipes or meatball dish recipes through (e.g. MEAT Islim kebab (TOOTHPICK KEBAB-MEAT PATLICAN🍆 pack)) a selectable menu item will also contribute significantly. While KORNİŞON SALATALIK🥒 PICKLE enriches the menu, one of the salad recipes, especially the shepherd's salad , can be added to the list. Fruit juices such as MINT AYRAN🥛🧊 , CACIK RECIPE , YOGURT , APRICOT COMPOSTO🥤🍹 or CHERRY JUICE , GRAPE JUICE can be given next to the baked pasta. Extract "What to eat with pasta in the oven?" The answer to the question may vary.
If preferred, bay leaf to be added to the pasta boiling water, garlic or a small grated nutmeg to be added to the sauce will provide a pleasant smell.
How about a diet pasta recipe in the oven? The extent to which measures such as whole wheat pasta, milk or yoghurt to be used in sauce are "light" and the cheese is not too fatty depend on the diet followed.